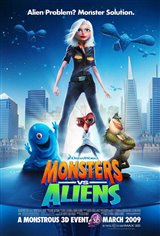 Monsters vs. Aliens
81 Reviews
|
Write a Review
In Theaters: March 27, 2009
3.91/5
Based on 726 votes and 81 reviews.
58.37%

13.30%

6.87%

3.43%

18.03%
Please rate between 1 to 5 stars
Showing 31-40 of 81 reviews
May 17, 2009
kind if boring for a kid's movie
May 16, 2009
it was alright but easy 2 get lost in the movie
May 14, 2009
hmm, this film is alrite, not too good and not too bad either
May 8, 2009
Got really bored with the movie, not at all what I expected and way to dragged out
May 7, 2009
Pretty decent, but considering what a big deal they were making over this movie, it did not meet expectations. The 3-D was predictable and corny. Wait for the rental.
May 6, 2009
this movie is so funny
April 25, 2009
I'm a teenager and this movie it is so badddddddd, and not in the cool way. yeeeeeeeaaa
April 18, 2009
sweet movie
April 18, 2009
best movie ever even my entire family loved it because its so funny i liked the part when general w.r. monger called bob the gelatnis maze and i also liked the part when the missing link always gets hurt and i liked the part when the president put the music to funk and i think doctor cockroach phd is so funny even when he kept saying hall galaxar
April 14, 2009
tottaly awsome