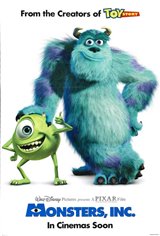 Monsters, Inc.
187 Reviews
|
Write a Review
In Theaters: November 2, 2001
4.36/5
Based on 10567 votes and 187 reviews.
74.98%

11.70%

0.55%

0.27%

12.50%
Please rate between 1 to 5 stars
Showing 1-10 of 187 reviews
December 12, 2019
Great disney movie and liked billy crystal's role as mike and john goodman was good as sully.
October 14, 2006
I`m not a hugh fan of cartoons, but I did like this film. I did find more heart than humour even with John Goodman and Billy Crystal bringing their voices to it. Kids will love it.
August 22, 2006
I love this movie!! It is one of my favourite Pixar movie up to date!!!
July 28, 2006
THE BEST FREAKIN MOVIE I EVER SAW!!!
March 22, 2006
sweet
September 20, 2005
MY BEST FAMILY ..... PLEASE I WISH I COULD SEE ANOTHER PART .. EVERY BODY LOVE TO .. HERE IN EGYPT
June 10, 2005
Best film ever! I love it still and it`s JUNE 2005
February 21, 2005
pixar rules tha other animating stations
January 18, 2005
i very warm film
June 22, 2004
Boo is the cutest lil gurl ever!!! It`s the greatest movie next to Shrek, Finding Nemo, and Lilo and Stitch! You gotta have it! Great job on the animation. It`s such a cute movie overall.