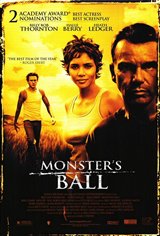 Monster's Ball
29 Reviews
|
Write a Review
In Theaters: November 11, 2001
4.22/5
Based on 802 votes and 29 reviews.
71.86%

9.30%

2.64%

1.88%

14.32%
Please rate between 1 to 5 stars
Showing 1-10 of 29 reviews
June 12, 2009
esta muy bien la historia
September 18, 2005
watched it, liked the first few minutes, then got bored. the main plot (berry falls in love with thornton, who was involved in her husbands execution) was left until the last minute. could have made compelling viewing if this story surfaced much sooner.
February 5, 2005
This movie is a shame !
October 24, 2004
Good movie, Halle Berry hot, probably not deserving an AA, but a solid performance nonetheless
August 1, 2004
Acting was awesome on both parts, needed a bit more action but was an fabulous movie, loved many parts, a have to see movie
September 21, 2002
Incredible acting. Was disapointed with the ending. Did anyone else think that we were going to find out that Halle had actually killed her son instead of him getting hit by the car?
September 21, 2002
There was no action, nothing was moving in this movie. The time was so long, I though I would stop it. But I listen it and at the end I was so disappointed of the way they end the movie.
June 15, 2002
So bad. What a disappointment! We were bored the whole movie, even considered leaving at times, but stuck it out, only to wish we had left! Billy Bob is a great actor, whose skills were totally wasted. don`t waste your money, even on the video.
May 17, 2002
i have not seen it so I do not really know. I rated it a 4. Because halle berry was in the movie!0
May 4, 2002
Great Show. Good acting by Halle and Billy Bob