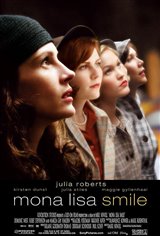 Mona Lisa Smile
43 Reviews
|
Write a Review
In Theaters: December 19, 2003
3.2/5
Based on 804 votes and 43 reviews.
39.52%

13.05%

9.66%

3.76%

34.00%
Please rate between 1 to 5 stars
Showing 1-10 of 43 reviews
March 27, 2007
i think it was great but it just needed something to add to it that would make it 4 stars
January 22, 2006
comment I have watched this movie about 29 times. Loved it each time. I would like to know more about Domenic West. What is his nationality
September 26, 2004
I really liked it
March 15, 2004
A NICE FEEL GOOD MOVIE
March 1, 2004
I thought it was a film which protrayed young women in a time whereby their values and beliefs were still a long ways off from the women I know today. Still I wonder how much as really changed.
February 26, 2004
i think it rocks i love girly movies the are better than full on action
February 26, 2004
I think that is was okay. But still NOT as good as her other movies! I think she is an incredible actress but the film (story line) didn`t give me good boosbumps like i get in the other movies she has starred in!
February 11, 2004
Oh what a bore. I expected a lot more. This movie`s theme is so passe that with such a great cast, the audience anticipated experiencing some kind of epiphany. I waited. No epiphany. The movie`s pace slowed in the middle to a sloth like pace and it did not reveal any minutiae to affect any emotional connection other than a groan of how much longer must I sit here????!!!
January 28, 2004
I thought it was awesome. I always enjoy a good chick flick.
January 20, 2004
I thought this movie was really great, I love good girl power films!