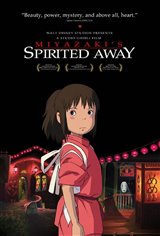 Miyazaki's Spirited Away (Dubbed)
76 Reviews
|
Write a Review
In Theaters: September 20, 2002
4.3/5
Based on 2716 votes and 76 reviews.
80.26%

2.24%

0.93%

0.37%

16.19%
Please rate between 1 to 5 stars
Showing 1-10 of 76 reviews
October 15, 2010
Awesome & faultless! Transports you to an rich, lush fantasy world with real life meaning and wonderful depth. Few films have the power to transform the viewers' reality for the entire length of the production. LOVE IT!!!
February 12, 2010
the movie was wonderful
January 4, 2010
Great movie!
November 20, 2005
i thought that this was actually very good. the voices were a good choice and i thought that the plot was interesting. this was awesome.
September 18, 2005
Wow.
June 7, 2005
It has been one of the best movies I have ever seen! It`s truely a marvles picture!
May 17, 2005
One of the best movies I have ever seen.
April 12, 2005
Spirited Away is the best anime movie I have ever seen. It is my favorite movie of all time, with a sweet ending that reveals that love and innocence can pull you through. When I first rented it, I watched it six times, IN A ROW! I would watch it, then rewind it, and so on and so fourth. *THREE HUGE CHEERS FOR THE BEST MOVIE IN THE UNIVERSE!!!!!!* Hip HIP HOORAYYYYYY!!!!!!!!!!!!!!
January 6, 2005
amasing, superb, the best film ive ever seen, its so good me and my freinds have made a boarde game
December 8, 2004
spirited away ia the best film ive seen in a very long time! its great!!