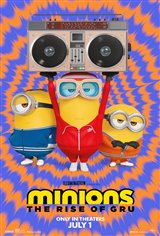 4.14/5
Based on 60 votes and 10 reviews.
Please rate between 1 to 5 stars
Showing 1-10 of 10 reviews
July 5, 2022
I'm a big kid (37yo) and loved it!! The plane scene with Kevin as the pilot was just priceless, enhanced by the waltz music it was set to. After the two years we've had... just needed some fun! There are also several touching moments of kindness sprinkled throughout the movie. Loved Michelle Yeoh's (Crouching Tiger Hidden Dragon) Kung Fu character here. And one of my favourite things is that "Minionese" combines English, French, Spanish, Japanese... a bit of everything 😀 Go see it, laugh and enjoy!
July 4, 2022
There were some funny parts. My 4yrs old likes the "Onions" lol. The whole movie is slap stick. I tired of all the constant hitting. If it wasn't one person hitting another, they were getting hit by objects or hitting themselves on objects. At least the action was fast and kept my 6 and 4yr old glued to the screen.
July 2, 2022
Such a good movie, It's great and funny for you to watch I definitely recommend for you to watch it! It is worth the money and is very funny for you and your friends or family.
July 2, 2022
BEST MOVIE EVER ITS SO FUNNY ABSOLUTLEY WORTH THE MONEYY
June 30, 2022
This movie was so inspiring and amazing. There was a part where Gru was singing when he got out of the shower and it just inspired me to sing and now I have a number one hit on SoundCloud. Shoutout to ILLUMINATION for making this absolute banger of a movie. Hope to see more from you guys and hope you guys keep making new movies!!!!!! (P.s. the minions are sexy and this movie made me cry because it touched my heart).
June 30, 2022
This was an inspiring and uplifting movie that touched my heart .
June 30, 2022
All the minions are hot especially bob he is such a cutie