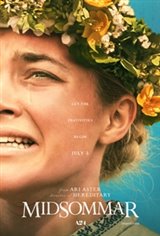 Midsommar: The Director's Cut
6 Reviews
|
Write a Review
In Theaters: August 30, 2019
3.3/5
Based on 24 votes and 6 reviews.
50.00%

10.00%

0.00%

0.00%

40.00%
Please rate between 1 to 5 stars
Showing 1-6 of 6 reviews
July 14, 2022
Ari Aster is a talentless fraud just like James Wan.
September 12, 2021
One of the worst and overlong movies is now even longer and more terrible. Watching ice melt is more exciting and has a quicker pace. Ari Aster is a no-talent hack.
September 3, 2021
The movie that refused to end is even longer now. Oh joy. This sucks!
September 4, 2019
I agree this version is better than the original . This is still a very quirky movie ,but in a good way . The new directors cut seems to tie it all in better ,IMO. Some will love it ,some will hate it, but it is different which makes it interesting to me .
August 31, 2019
Improvement on the original cut. The added footage fills in some of the satire of modern society. Eg. How the elderly are treated / Factionalism between men, women, race, religion, power, science, and superstition. The young try to change society, but are scapegoated or co-opted into one faction or another. Why characters can't escape, and the nature of secrecy of the cult, are explained. One of the best movies of the year.
August 29, 2019
Strange movie