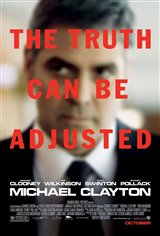 3.16/5
Based on 833 votes and 42 reviews.
Please rate between 1 to 5 stars
Showing 1-10 of 42 reviews
February 3, 2012
there are no words to dersicbe how bodacious this is.
September 4, 2008
Clooney's best since Batman & Robin.
March 24, 2008
Very slow at the begining BUT keep watching it does get better. Great acting done by all. A movie I would never watch again but glad I saw it at least once.
March 19, 2008
This movie was kind of slow moving, but that's what made it suspenseful, as well as the GREAT ACTING and the cool backround music. EVERY scene is important so you better expect to pay really close attention to EVERY scene, even the smallest little conversation. It also had a great ending! I loved it! 4****s !!!!!
March 17, 2008
A lot of loose ends (oh look, horses, must stop the car and run up to them). Obviously edited to peices. Ending was good. 3***s
February 23, 2008
this movie is long, boring & makes no sense. maybe one needs to be on crack to understand it, watched half of it, fell asleep and turned it off. never again. what's up with the horses? the jaguar? who are all these people? and the book? wtf. watch it will win an oscar, because hollywood is messed up. what a waste.
February 9, 2008
Although I agree with the many of the comments that the movie was slow moving, it was riveting! The film was thought provoking and well written. It, in my mind was one of the best movies of 2007. Great performances by Clooney, Swinton and Wilkenson. Don't go see this if you are expecting an "actioner".
February 3, 2008
thriller of a movie; great acting; not too bloody..
December 22, 2007
Excellent movie with twists and turns till the very last scene.
November 5, 2007
It was interesting. A little long and the very last scene was just weird, but all in all an enjoyable drama.