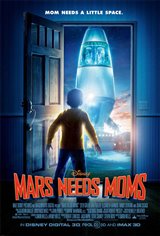 3.83/5
Based on 26 votes and 11 reviews.
Please rate between 1 to 5 stars
Showing 1-10 of 11 reviews
May 16, 2011
excellent movie for kids to appreciate everything their mother does for them
April 4, 2011
I took my fourteen year old and my four year old to this movie and all 3 of us enjoyed it. It was well done, not too scary, funny and had a great story line.
April 3, 2011
This was an EXCELLENT movie!!! My 7 year old and I liked it very much and I am surprised it has not gotten more press. Definitely one to see in the theaters!!! I would recommend it for children 6 - 13
March 29, 2011
My 7yr,old son & I really enjoyed it. Watch what you say about your mom, appreciate & love her and Dad is part of the family too. You need love & affection more than technology.
March 24, 2011
Great graphics! Compelling story! Great message for kids - never tell your mom that you would be better off without her!
March 15, 2011
I loved this movie but my friend Megan hates it she's too cool for this movie lol
March 14, 2011
Mars Needs Moms is a clever, even subversive, tale of an ancient Martian civilization that kidnaps Earth moms to program their nannybots to raise their young, because the Martians segregate male and femal - and females run thew world, while the males are stuck on the refuse dump. When Milo's mom is kidnapped for that purpose, he stows away on the rocket and tries to rescue her with the at-first-grudging, then enthusuastic help of Gribble an Earthling whose mom ewas kidnapped in the eighties, and Ki a Martian fe,male who learned english - and her mindset - from sixties TV shows from Earth. A bit too intense for pre-schoolers, but with lots of cool stuff for adults. The 3D is pretty good
March 13, 2011
Not worth the money