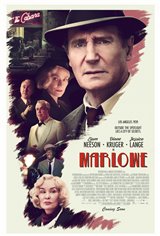 Marlowe
| 13 Reviews
Write a Review
In Theaters: February 15, 2023
On DVD/Blu-ray: April 18, 2023
R | Thriller | 1h 50m
3/5
Based on 32 votes and 13 reviews.
Please rate between 1 to 5 stars
Showing 1-10 of 13 reviews
March 6, 2023
My friend and I thoroughly enjoyed this movie. The costumes, cars, sets and locations where it was filmed were perfect for the era. It takes a bit of intelligence to follow the plot and sub plots and I love a film that makes me use my brain to follow. As we walked out of the theatre, we discussed how it probably would not appeal to many of the young adults that make up the majority of today's working business class as they seem to have shorter attention spans and prefer plots that can be visually followed instead of plots that are cerebrally challenging and require you to listen to (and understand!) the dialogue. The theatre where we watched it did have on the subtitles which were helpful and a nice touch. I will see it twice!
March 3, 2023
Nice to see a film with an actual plot for a change. Muted brown colors combined with the excellent jazz sound track brings back memories of a similar film, Chinatown. I think the plot became a little confusing due to a needless number of characters introduced later into the film which in turn created unnecessary sub-plots. All in all a good old fashioned enjoyable night at the movies!
February 25, 2023
Everyone in the film with the exception of Jessica Lange and Danny Huston was ACTING! Totally unbelievable performances and a dumb script. Diane Kruger's performance was amateur hour at best. Wanted to walk out of the theatre but I kept hoping things would get better. Save your money.
February 25, 2023
Just plain boring. Slow, no plot line, plot goes everywhere, ending is terrible... Not your typical Liam Neeson movie
February 24, 2023
Disjointed storyline, characters appear out of nowhere, the ending had no relationship to the story. They tried to have the ending be a "twist" but it came off as "what was that?" I like Liam Neeson but this was by far the worst movie I have seen in a long time. Don't waste your time and money.
February 24, 2023
A boring movie. Too many characters to keep track of. Liam is 70 years old and this movie, he really looks it.
February 21, 2023
This was a slow paced movie, but that's the way it's supposed to be given the era it was filmed in. It was a well done film and I enjoyed it.
February 19, 2023
Liam Neeson good acting more mellow part for him not the usual tense action. More of a mystery plot.
February 18, 2023
Hard to understand. Really dark. Hard to stay awake.
February 18, 2023
I wish they had subtitles because I couldn't understand what the sentences were. I have always loved Liam Neeson in action rolls. Excellent cast! (Although, I would have used a soft camera filter for Jessica Lang.) All-in-all I couldn't understand their spoken words; sounded very muffled like someone put a sock over the microphone at times.