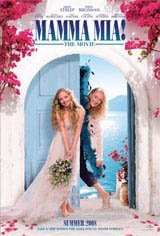 4.33/5
Based on 1356 votes and 274 reviews.
Please rate between 1 to 5 stars
Showing 1-10 of 274 reviews
September 24, 2018
I'm a huge fan of musicals and always meant to watch this one. I finally had the chance and I hated it. It's beyond cheesy, the storyline is flimsy and after about half an hour, I had to turn the TV off. This is the kind of musical that makes non-musical lovers say See? Musicals are garbage with bad acting and stupid storylines. Which isn't true. Except in this case.
November 1, 2010
Watched it again and I have to say; Why didn't someone say to Pierce Brosnan - "Mr Brosnan, you are a great actor. We love you. ...but you can't sing and we will dub your voice in the movie." Anyway, besides that, and overacting from Meryl that looks great on stage, but not in a movie, this movie is enjoyable. I think the only reason I don't give it higher stars is that I was lucky enough to see the stage play in New York and it was a million times better on stage.
September 28, 2010
Two hours of exuberant, musical fun based on the songs of ABBA. Cringe if you must, but your toes will be tapping all the same. I enjoyed three handsome, if vocally challenged, actors each taking turns being confused, surprised, charming and ultimately rising to chivalry. I love a man who can take the micky out of his own persona. Amanda Seyfried as bride-to-be, Sophie is lovely - both visually and vocally.
December 24, 2009
Best movie ever. so full of joy!!
March 16, 2009
Love the film, have watched the DVD many times, listen to the soundtrack daily. No the songs aren't sung perfectly but the energy and vibrancy of the cast never fails to give me a boost
March 8, 2009
this is one of the best i have watched it i do not know how many times it is just great. well done to all,i shall keep watching and singing along than you all for the music. jenny mitchell
March 4, 2009
I would kill to be in a movie with Dominic Cooper
February 8, 2009
THE BEST I HAVE EVER SEEN
January 14, 2009
It's "Detroit Rock City" for Abba fans. 1.5/5
January 2, 2009
One Of the best entertained movies