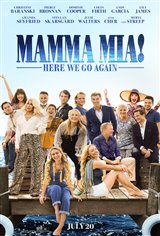 Mamma Mia! Here We Go Again
| 109 Reviews
Write a Review
In Theaters: July 20, 2018
On DVD/Blu-ray: October 23, 2018
3.83/5
Based on 318 votes and 109 reviews.
Please rate between 1 to 5 stars
Showing 1-10 of 109 reviews
November 2, 2018
Love this story! It's beautiful
October 31, 2018
Must Watch!
October 14, 2018
Was a fun movie with great songs by ABBA. (The person that said in their review that there was too much ABBA music is a real dumbass! It IS an ABBA-written musical and you must have been living under a rock since the musicals debut years ago,) The plot was too jumpy and hard to follow, who was married to whom, who's dead/alive, who's that character and what involvement in the plot, which made it tedious to watch at times. Cher was her usually campy self in her cameo and her one liner zinger "That's what grandmother's do, little girl!" was priceless. Cher can be my granny any day! A cute not great film, a great evening out, and you don't need to think about what's going on, just enjoy it.
September 25, 2018
This is a pretty bad movie. How could it have gotten any good reviews? From the horrid opening "number" you get a feeling you wasted your money, something that is confirmed by the even sillier ending with Maryl Steep as ...a painting over the new inn's fireplace (!) ...and then a ghost at a wedding? Cher has to wear a cheap blond wig since she looks nothing like the petite blond daughter or granddaughter. Ex lovers arrive as if by a fleet? The scenery and some musical numbers are fun, but the story and acting is an embarrassment to all involved.
September 21, 2018
Frankly it was disturbing.
September 21, 2018
It's casting location and storyline encourages family ties!!! Excellent...funny and heart warming!
September 20, 2018
While the music was great, the plot was very poor.
September 16, 2018
Loved the music, great show puts u in your happy place 😁
September 14, 2018
Caution..... this movie is addictive! It sounds like I am not the only one to have seen it more than once. And I enjoy it more each time. Probably go again very soon as I need a Happy Fix.
September 12, 2018
I really loved the movie and like people say, if you are down in the dumps, this is a very good movie to see. It really lift your spirits and I keep on going to see it until it doesn't play in the theaters. I even pre-ordered the first and this one when it comes out on the DVD. Who wouldn't love this movie.