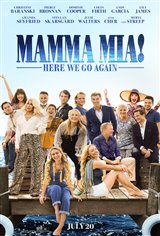 Mamma Mia! Here We Go Again
| 109 Reviews
Write a Review
In Theaters: July 20, 2018
On DVD/Blu-ray: October 23, 2018
3.83/5
Based on 318 votes and 109 reviews.
Please rate between 1 to 5 stars
Showing 51-60 of 109 reviews
July 31, 2018
Absolutely a movie you will want to see again and again. Fun, with many new characters. Bring your friends and enjoy the party.
July 31, 2018
The movie was very uplifting, music was great, singers/dancers were fantastic. I enjoyed because it was not a swearing, shooting, crashing, killing movie. I was raised on musicals and it rose a spirit in me of days gone by. Very wholesome. In spots it brought a tear to my eye. I also did not want it to end. Story line was amazing. There were some chuckling moments, some that slipped by others. I loved the older actors and it was nice to see them in a movie that was fun and not so serious. My friend talked me into going and I am glad I did.
July 31, 2018
Excellent movie, completely different from the first one. Also had some different songs. Acting, script, music were all wonderful. I didn't expect to like it as well as the first, so was pleasantly surprised and enjoyed the movie the whole way through, and didn't want it to end.
July 31, 2018
Excellent, incredible scenery, fantastic acting by the younger main character. This movie was better than Mama Mia 1 with a better story line. Overall, superb movie. I will see this movie again and buy the DVD as well.
July 29, 2018
A feel good movie!
July 29, 2018
Fun movie heartwarming. Good music. I like the new actors very much. Loved the young Donna.
July 29, 2018
Very good haven't seen the first one but this one was very good and it was the first time I ever heard an Abba song
July 28, 2018
Great, funny with excellent singing. I loved how the older actors played into the success of this movie. Made me happy when I left the theater.
July 28, 2018
I preferred the first Mamma Mia, but did enjoy this version. I would see it again...when it comes on tv. I do not know why they brought in Cher. She did not add anything to the movie and even her singing felt flat.