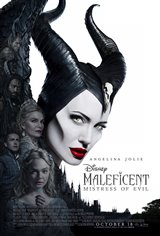 Maleficent: Mistress of Evil
| 75 Reviews
Write a Review
In Theaters: October 18, 2019
On DVD/Blu-ray: January 14, 2020
3.9/5
Based on 244 votes and 75 reviews.
Please rate between 1 to 5 stars
Showing 1-10 of 75 reviews
February 13, 2020
lets disguise evil and make it fun . what a bunch of junk.
February 10, 2020
more satanic crap from Disney , open your eyes , I would not your grandchildren watch this , much less mine , wake up..people ....... these are not drones you want
February 6, 2020
total trash
January 25, 2020
Great movie, I loved the story line. This movie was just as good as the first.
January 15, 2020
this is not the type of stuff our children should be watching . what happened to the days when Disney made good movies?
January 9, 2020
Thought it was a great story line
January 9, 2020
dump all 1 and 5 star reviews to get an honest picture of the movie
January 5, 2020
A surprisingly good movie. Lots going on and not too scary for kids too
December 9, 2019
If you liked the first one, you'll probably like this one. Darker theme than the first one. Personally, i think it's worth the extra few bucks to see this in ultra avx.
December 9, 2019
A lot of CGI and too many actors over 50 playing in the fairy tale - even the fairies looked like they had walked out of an AARP convention. Maleficent did have the nice dark tinge of Darkness which Disney rarely explores except in Something Wicked this way comes but here, we get the same tired CGI look. It would be nice if such films would take a look at what can be done without CGI and look at films like the 1985 Dreamchild or The 1981Neverending Story.