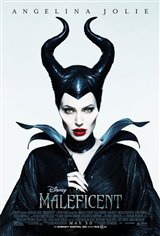 Maleficent 3D
18 Reviews
|
Write a Review
In Theaters: May 30, 2014
4.13/5
Based on 50 votes and 18 reviews.
65.22%

17.39%

0.00%

0.00%

17.39%
Please rate between 1 to 5 stars
Showing 1-10 of 18 reviews
July 4, 2014
I loved it !! it was Amazing ! Angelina was stunning,great acting,great story ! Very Entertaining ! love the 3D effect
July 3, 2014
This movie has good effects, acting and started pretty good, but the lost the dynamics and sense. Main characters moving from one place to another without purpose, saying meaningless phrases. Movie feels chopped, almost like watching a soap opera.
June 24, 2014
I movie was so good I liked it a lot
June 22, 2014
It was amazing!! I loved Angelina's acting and the storyline was very well done. Its a must see if you haven't seen it already!
June 18, 2014
The writers needed to go back and watch Sleeping Beauty -- Maleficent is NOT a heroine!
June 16, 2014
Very transparent and gender biased. Angelina's costume and make up do a better job than her acting...what else is new?
June 15, 2014
Graphics are good, but the plot is very predictable -like Disney has a formula. All of the men or boys are useless or bad, I can't imagine a movie that would be so heavily weighted towards male characters in this day and age, but it seems it's ok for female characters. Very strange hypocrisy.
June 11, 2014
Great movie! Loved the different point of view.
June 10, 2014
I very heart warming movie, Angelina Jolie gives a stellar performance.
June 10, 2014
Really good movie! I loved it!