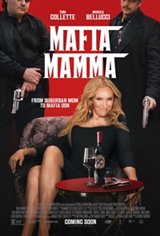 Mafia Mamma
| 10 Reviews
Write a Review
In Theaters: April 14, 2023
On DVD/Blu-ray: June 6, 2023
3.45/5
Based on 22 votes and 10 reviews.
Please rate between 1 to 5 stars
Showing 1-10 of 10 reviews
May 26, 2023
Absolutely horrible. I watched 10 minutes and that was it. Another Toni type of movie, stupid and ignorant badly behaved people doing mean things, lots of yelling and noise. It's like a movie about trashy N.Yorkers or Liverpool low lifes. Toni, a low life herself, obvously had a lot to do with writing of this terrible trash.
April 26, 2023
Loved, loved, loved it! There hasn't been a Mafia movie this good since The Godfather.
April 16, 2023
Between below average and bad.
April 16, 2023
I liked everything it's a movie remember?? Good way to spend a couple of hours enjoyable funny and het husband was cheating why shouldn't she? Not slutty at all!!!
April 13, 2023
One of the year's ten best! It could easily turn out to be this year's EVERYTHING ELSEWHERE ALL AT ONCE!
April 10, 2023
Enjoyed this sooo much!
April 7, 2023
We saw this at regal theater on movie mystery night. It only cost $5. Thank goodness, glad we didn't pay full price. We got a few chuckles from the movie but that's about it. Would not want to see again.
April 5, 2023
To be honest here, when I saw the beginning, I was thinking it was gonna be an endless amount of sex jokes and random sex scenes that don't even work with the movie at all, but I was completely mistaken fully. It got better and better as the movie progressed and the jokes actually were funny as hell. Thank you Regal for showing me this movie!
April 3, 2023
Toni was slutty and stupid. Waste of 2 hours and 11 min. Her hair looked great though
April 3, 2023
So, firstly I saw this when Regal theater had their Mystery Monday showing. I wasn't expecting much. Was a bit worried it would be corny but I was pleasantly surprised. It was really funny. I am someone who doesn't laugh out loud a lot at comedies but I laughed a lot at this. I related sooo much to the main character. So much so my sister and brother-in-law laughed because it reminded them of me. Would definitely watch again.