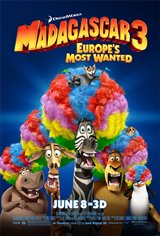 Madagascar 3: Europe's Most Wanted
3.84/5
Based on 304 votes and 111 reviews.
Please rate between 1 to 5 stars
Showing 1-10 of 111 reviews
July 19, 2014
Thought It was a good movie,its funny to see the Canadian ppl who are bitching in the comments if u don't like it don't watch it,an someone say USA should apologize lol all u will get is a big f*#k u :)
June 20, 2013
Great for kids but national stereotypes and blatant pro US message dampen the film for adults who do not respond to stereotypes. The greatest casualties in my view are the French, as a Brit I am used to low grade stereotypes from the US ( we are always the damn villain) but its generally not meant harshly whereas the digs at the French certainly are ( Freedome fries - noted ). Its time Americans saw themselves for what they really are - only in Hollywood do the men have chiselled jaws and look hero material, in the real world they are just as ugly, fat, stupid and cowardly as the rest of us - I am tired of the "American Century".
April 19, 2013
Definitely funny, same as the previous ones. The French Canadian circus comments weren't derogatory.. they were actually completely accurate (read about Cirque du Soleil). The work ethic one was annoying, and I'm also not sure where it came from, like the other posters here. I imagine one of the writers had a bad experience once, and that's it..
December 28, 2012
This was the worst movie out all 3. Hated the "canuckaphobia" comments. It was a real let-down.
November 11, 2012
It was good!
October 18, 2012
The Best Madagascar YET !!!
October 12, 2012
HILLARIOUS THE BEST MADAGSCAR YET A HILLARIOUS AWESOME CLASSIC I CANT WAIT TO SEE IT AGAIN
October 1, 2012
Really funny cartoon.
October 1, 2012
My daughter and I saw that movie in theater and we laughed. She's 3 years old and like it. She wants us to buy it.
October 1, 2012
This movie was amazing. I'm 19 years old and still went and saw it with my best friend and I laughed my head off the entire time