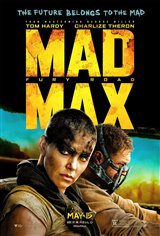 3.44/5
Based on 282 votes and 76 reviews.
Please rate between 1 to 5 stars
Showing 1-10 of 76 reviews
December 23, 2019
A cheat and a real disappointment; Mel Gibson isn't even in this one.
April 30, 2018
The best Mad Max ever!
March 2, 2018
There are not many movies with mostly practical effects today. The stunts are breathtaking, the characters are cool and we can root for them. Visual side of the movie is beautiful and ugly at the same time. Perfect post-apo!
February 2, 2018
Visually beautiful, post-apo world of fire and blood. Simple plot, almost non-existent, but it´s just cool ride! Lovely old+modern religion of Immortan´s warboys, crazy details like guitarist in the role of ancient bard who gaves the rhytm to the move of war rigs and depressive wasteland everywhere...and the fact that young warboy who was born after the apocalypse doesn´t know what is a tree is quite disturbing because we certainly go this path to get into the world like this soon. Max is mad to the point he barely speaks to the other characters and badass one-handed Furiosa is the best female character in action movie of all times. She doesn´t need to strip or show her butt and breasts to be "cool" because she´s cool. She has also typical female qualities like empathy and care for Immortan´s "wives", aka slaves. She´s driven mostly by empathy and desire to free them and herself from the dictator and reach the Green Place where they could live in peace. Definitelly much better role model for young girls than Harley Quinn! But this movie isn´t for young kids, so...when they will be around 15, they can learn how to be cool. :) And don ´t forget about Nux, the warboy who manages to overcome brainwashing and do the right thing. There´s just too much depth for one review in the movie which seems not deep at all at the first glance!
March 2, 2017
Very well done tom hardy does as good as a job as Mel Gibson in the first 2 mad max movies I'm so happy it was not another beyond the thunder dome
January 18, 2016
It didn't take me long to realize it wasn't Mel Gibson playing Max in this movie, and I'm sure others noticed it, too. I felt cheated for days afterward but finally got my money back after threatening to sue.
December 29, 2015
Lazy attempt to continue a franchise that was never very popular to begin with. Kudos to Mel Gibson for walking away from a very large pay day. Fans thirsting for thrills and spills should rush out and see the new Point Break, a spectacular action picture that builds on the proud legacy of its predecessor and redefines the modern event movie.
December 27, 2015
They should have scrapped the whole idea after Mel turned them down.
December 27, 2015
Anyone who's crying about Mel Gibson's absence, or that somehow his presence would have made this movie better... is an idiot. As a long time Mad Max fan, I watched all the preceding Mad Max films before playing this one, and my verdict: Fury Road is by far the Best in the series. In regards to stunts, furious action, cinematography, the fantastically designed war vehicles, and as a bonus for once: eye candy, this installment easily leaves the previous 3 in the dust. Story? What story? Who cares... none of the other films had anything approaching a decent plot, and that's not why we watched them in the first place anyways. I was thoroughly entertained from start to finish, and I hope George Miller is at the helm of future sequels.
December 8, 2015
They shouldn't have bothered if they couldn't get Mel Gibson.