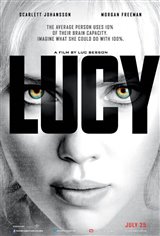 3.34/5
Based on 284 votes and 84 reviews.
Please rate between 1 to 5 stars
Showing 51-60 of 84 reviews
July 30, 2014
Such great actors and their performance, but technically zip story...boring.
July 30, 2014
Great movie from start to finish, tip of the iceberg when it comes to our own understanding as human beings, deep and entertaining! must watch
July 30, 2014
Saw Limitless, not the same, yet equally awesome, trailed off at the very end, no problem, best movie ever.
July 30, 2014
Easy to see this is Scarlett's best movie ever.
July 30, 2014
Thanks RICHMOND HILL S.C. I LOVE MORGAN FREEMAN, my husband loves Scarlett, both were spectacular. Action was intense up until the last 10 minutes. While Scientists have proved that Evolution according to Darwins Theory is a whimsical fairy theory it was amusing since most men act like apes, lol.
July 30, 2014
It was very good. Violent, but the visual effects were great.
July 30, 2014
Seemed to have potential in first half. Second half was just strange...not in a good way.
July 29, 2014
First 1/2 hour showed promise, then it jumped the shark
July 29, 2014
I figured this would be a great movie. Morgan Freeman was at his best, like always, SJ was at the level I expect of her. Too bad the writers/producers didn't use at least 8% of their brain when putting it all together. Honestly disappointed. But the Actors make it to 3 stars but the film, hit rock bottom level
July 29, 2014
This is a silly premise and an idiotic movie. I don't go to movies of find the meaning of life, so don't give me all this phoney science and a stupid answer. I am appalled that some people saw any meaning or got any enjoyment out of this turd.