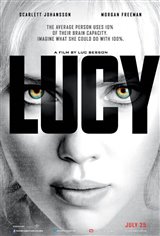 Lucy
84 Reviews
|
Write a Review
In Theaters: July 25, 2014
3.34/5
Based on 284 votes and 84 reviews.
37.88%

19.70%

6.06%

11.36%

25.00%
Please rate between 1 to 5 stars
Showing 41-50 of 84 reviews
August 2, 2014
Really really bad.
August 2, 2014
Very disappointing. A waste of money.
August 2, 2014
Terrible. The movie was good initially, but everything just turned ridiculous.
August 2, 2014
I think it was a great movie. Definitely out of the box thinking. Don't forget that this movie was directed by Luc Bessoon so it's not for everyone. IT's not your standard Hollywood movie
August 2, 2014
what a disappointing movie. Save your money don't bother with this movie. What- no ZERO star rating. Forget it.
August 1, 2014
Great movie...much discussion after it ends. Worth seeing.
August 1, 2014
Absolutely amazing move!
August 1, 2014
Lucy gives us a glimpse of the truth I loved this movie. Most people will find it hard to believe, but what you see in this movie, is enlightening to our true potential The movie is brilliant. Go see it.
July 31, 2014
Save your money - enough said
July 30, 2014
was disappointed 2 great actors not a great movie.If I enjoyed lectures I would go to them.I like entertainment and did not think this movie was.