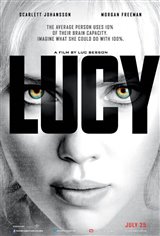 Lucy
84 Reviews
|
Write a Review
In Theaters: July 25, 2014
3.34/5
Based on 284 votes and 84 reviews.
37.88%

19.70%

6.06%

11.36%

25.00%
Please rate between 1 to 5 stars
Showing 31-40 of 84 reviews
August 6, 2014
Outstanding! Not recommended for the dull of mind, as it will not please them - as noted by the multiple one star reviews.
August 6, 2014
bad movie from the start and it gets much worse meaning it sucks getting more cheesy when the flick goes on to the end, don't listen to the people giving it a four or five star as the saying goes their no counting for taste, worst movie of the year and of all time, plus on a few counts was looking to leave the drive inn but gave it a chance then finally left as i should of done that before never done that in years, show you show badly it was done
August 5, 2014
It's not for everyone. Those who want to stretch their minds...this is for you. It would have been a lot better without the bad guys. Wish there could be a movie containing all the enlightening stuff without the lame stuff. I guess you have to have both for those who want that kind of rough stuff. Loved the message it is trying to get across. Would love more of the same. Mwah!
August 5, 2014
Good movie. A different way of thinking.
August 4, 2014
Poor and wooden acting, silly plot - just an excuse for violence. So much more could have been done with this topic. Ridiculous ending.
August 4, 2014
Good one! I really liked it!
August 3, 2014
We were very disappointed. Expected better with Morgan Freeman in it.
August 3, 2014
movie was good, and story line was also great, But I do not like the movie cutting.
August 3, 2014
Good Movie
August 3, 2014
ugh what a dud