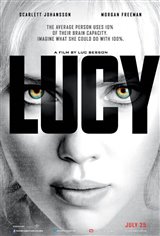 3.34/5
Based on 284 votes and 84 reviews.
Please rate between 1 to 5 stars
Showing 21-30 of 84 reviews
August 17, 2014
Storyline was a little far fetched for some of the reviewers on here but I enjoyed the movie....I would recommend any action buff to see it!!!
August 17, 2014
I read a lot of bad reviews for this movie and I almost didn't go to see it. In spite of the reviews, I went to watch it anyway, and I'm glad I seen it, it was honestly one of better movies I've seen in a while.
August 14, 2014
Awesome movie! For those receptive, can induce an experience if oneness conaciousness. For that fact, just nudged Avatar out from being my favourite movie ever so far. Avatar still up there for beautiful cinematography, cgi and concept, but Lucy takes a quantum leap into our quantum consciousness experience. Just sayin' : )
August 11, 2014
this movie is very rare. energy, time, and space. amazing!!! Excellent actress choice.
August 11, 2014
For those who didn't like it, they probably only use 2% of their brains anyways. It was a good movie! Similar to Limitless. Interesting and thought-provoking.
August 8, 2014
ALL Knowledge in a memory stick! How dumb.
August 8, 2014
Thought it was great!!!!! Very creative approach!
August 7, 2014
I thought this was supposed to be the trademark action of Luc Besson(?) it turned out to be some nutty sci-fi type flick. Morgan Freeman's talent was wasted in this. This movie was ok... I give this flick a redbox rental.
August 6, 2014
Movie must be viewed with an open mind. It is not like any movie that has gone before. It makes one consider all the possibilities. The negative reviews were most likely because the negative reviewer didn't understand the ending.
August 6, 2014
just bad. was so excited for this movie and could not have left more disappointed (and Im usually pleased by movies as long as they're not horrific). Its based on false premises, and leaves you walking away disturbed at how illogical it was. I understand its categorized as science fiction but there is no science in this. ugh.