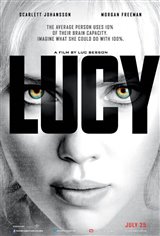 3.34/5
Based on 284 votes and 84 reviews.
Please rate between 1 to 5 stars
Showing 1-10 of 84 reviews
May 20, 2015
I thought it was great. Very well done. The ending a tad wishy washy but it worked. Well done to all who participated in bringing this to film for us to enjoy.
February 14, 2015
Great movie! Kinda like the movie "Limitless" (guy takes a pill to be smart), but this is a whole lot better. Makes you think really how many brain cells we really use and our potential. Remember humans only 10% and dolphins 20% so really they should be teaching us! Didn't like the ending as much as I hoped though, but maybe there will be a follow up?!?
February 12, 2015
I thought it was a great movie, It provides one with a lot of action and a different perspective on the presently known mind/consciousness
February 10, 2015
One of the best, good acting, interesting story.
February 4, 2015
Great movie and a little out of the ordinary
January 27, 2015
Clearly the people that gave this movie less than 3 stars have less of the cerebral capacity of a fly! The movie contained everything a good science fiction flick should have. lots of action, great special effects, fast paced and a good story line (obviously not believable but hey, it's sci fi!) A true pleasure to watch.
January 22, 2015
I love well-done sci-fi movies and this was fast-paced and enjoyable. Scarlette did a wonderful job and I can't think of any other actress that could have done better.
January 16, 2015
Big screen is needed to check this fim out. Scarlett is well fit in the role and the action is addictive.
November 24, 2014
"Lucy" is a good sci-fi thriller movie involving a merciless warrior who is faster that the speed of light... Excellent special effects," Lucy" is worth seeing...
November 15, 2014
one of the best movies in a awhile i have seen.all the people viewed the movie and gave bad review are probably simple over educated sqaures