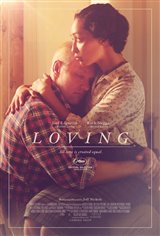 Loving
| 17 Reviews
Write a Review
In Theaters: November 4, 2016
On DVD/Blu-ray: February 7, 2017
3.6/5
Based on 34 votes and 17 reviews.
Please rate between 1 to 5 stars
Showing 1-10 of 17 reviews
February 21, 2017
Really enjoyed this movie. Educated me as well about this historical couple.
January 6, 2017
Jeff Nichols hasn't made anything less than very good in the decade he's been around as a director, starting w/"Shotgun Stories", then "Take Shelter" (my favorite movie of 2011), "Mud", and then "Midnight Special" from earlier this year. "Loving" is another great drama from him and it's first-rate all the way: thought-provoking, deeply felt, very well-acted, classically shot and told. I hope it scores a bunch of Oscar nods later this month.
December 31, 2016
Bad story line. Boring. Bad acting and .....never should have been legalized.
December 19, 2016
An excellent movie with great acting. Ruth Negga will be getting an award for best new actress at the Palm Springs Int'l Film Festival in Palm Springs in January. Sometimes good acting is subtle. I really enjoyed it-- a very thoughtful movie.
December 17, 2016
Excellent and moving story.
December 13, 2016
After watching this movie I looked for videos of the real guy, Richard Loving, and he doesn't seem like a half-wit. He seems way more outgoing, affable and personable than how he was played here. The director should have done a better job at directing and/or he should have hired a different actor, this one was miscast.
December 12, 2016
The main male figure comes off not just as unsophisticated but as DUMB. His wife was much brighter & fortunately for us all, took charge of the situation. I think for film purposes they could have had more character depth even if he was not a very likable man OR made him somewhat MORE likable.
December 10, 2016
The worst movie ever
December 6, 2016
Disappointing to say the least. It could almost be described as a documentary. The acting was very flat, no emotion coming across even during what should have been viewed as moments of grief or triumph. The actors portraying Mildred and Richard Loving didn't look any different from the beginning to the end of the film - same hairstyles, age stood still in regards to whole appearance and at times "Richard" mumbled more than spoke clearly. There is not enough going for this film to be memorable. Yes, the subject matter is of great significance to interracial marriage but the storyline could have included so much more to bring the story to life on the big screen. Two out of five at best.
November 28, 2016
The negative reviews on this site are very misleading. First of all, this is not, and doesn't intend to be an action movie. However, there are some exciting scenes. Likewise, it is not a boring movie. Instead, it is a very moving portrayal of the real life battle that Richard and Mildred Loving waged against the state of Virginia in the 1960's to legitimize their interracial marriage. The script is very well crafted and holds your attention. Jeff Nichols' direction is near perfect and the acting of Joel Edgerton and Ruth Negga is spot on. Yes, this is a very sensitive drama for mature people who realize how important this story is to the history of the United States. The Loving's court case led to a major constitutional amendment which made it legal to marry someone from a different race. It is a bit of a tear-jerker.