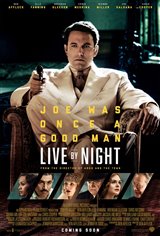 Live by Night
18 Reviews
|
Write a Review
In Theaters: December 25, 2016
On DVD/Blu-ray: March 21, 2017
3/5
Based on 50 votes and 18 reviews.
21.74%

21.74%

13.04%

21.74%

21.74%
Please rate between 1 to 5 stars
Showing 1-10 of 18 reviews
March 24, 2017
I really enjoyed this movie! I was hesitant because of the reviews and ratings on here but was happily surprised. Affleck, as usual, does a fantastic job along with his costars.
March 7, 2017
Terrible movie
February 16, 2017
someone please stop ben affleck. just, no. this is a bad movie and who cares about affleck? go do something useful. donate all your money. stop making ego-stroking BS.
January 28, 2017
Did not enjoy this movie at all. 2 stars because it enjoyed my popcorn.
January 25, 2017
GREAT MOVIE. BOTH MY WIFE AND I THOUGHT THE MOVIE WAS WELL WRITTEN, LOTS OF ACTION, ACTING WAS REALLY GOOD. I WATCH A LOT OF MOVIES AND THIS WAS AS GOOD AS ANY I HAVE SEEN.
January 24, 2017
Graphic violence could have been toned done without reducing the historical depiction of the twenties mob culture !
January 24, 2017
BORING, SLOW AND UNENTERTAINING. PASS ON THIS MOVIE.
January 23, 2017
My wife and I have always been fans of roaring twenties ganster movies. We enjoyed this one as well. We love the backdrop with the old cars, houses and clothes of the day. Story line predictable but enjoyable.
January 22, 2017
Slow and boring. Skip it.
January 19, 2017
I really enjoyed this move with a solid plot and is there all movie long. Affleck is very convincing and loyal t his calling in this jumbled at times plot, great though all in all.