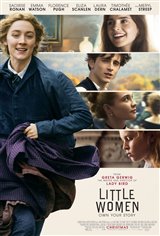 Little Women
| 108 Reviews
Write a Review
In Theaters: December 25, 2019
On DVD/Blu-ray: April 7, 2020
PG | Drama | 2h 15m
3.75/5
Based on 336 votes and 108 reviews.
Please rate between 1 to 5 stars
Showing 1-10 of 108 reviews
September 4, 2020
Nope. Too long, jumped back and forth so I never knew where the characters were in time, Saoirse was good as Jo but Emma Watson would have been way better in the role, Laurie miscast.... I watched about 2/3 of it, got sleepy, turned it off, forgot about it, then remembered a week later and watched another 10 minutes then gave up on it. I have seen the earlier versions of Little Women, even the old black and white one and they were all way better.
February 26, 2020
I was very disappointed. i couldn't wait for it to end
February 22, 2020
Aaaarrgghhh. Long.................................& boring.
February 17, 2020
Excellent movie. Wish they made more like this.
February 15, 2020
A ZERO star movie. I've watched the original movie (multiply times) and enjoyed it. I was hoping this would be just as good or better! However, it was not. I was completely confused when they switched from the present to the past. Added feminist theme to it, and some of the actors look too old for the age they are supposed to be. IF you still want to watch this, I'd advise you to watch the original movie first.
February 10, 2020
GREAT FILM. FAMILY MOVIE, FUNNY, ROMANCE, TRIALS AND OF COURSE A HAPPY ENDING. ACTING WAS SENSATIONAL. I SAW THIS MOVIE THREE TIMES.
February 9, 2020
I loved this movie. You can take the whole family and not worry. Very entertaining.
February 7, 2020
Loved the characters. It was well cast and well done. A movie that didn't make me feel uncomfortable with sex or swearing unnecessarily.
February 7, 2020
Ridiculously done. A snore.we walked out after an hour.
February 6, 2020
The director/screenwriter relentlessly pushed a feminist agenda that was not at all necessary and totally ruined the ending, diverging greatly from the book. The book in itself was empowering to women to begin with and the director felt it necessary to bash us on the head with political diatribe. I go to the movies to be entertained - not lectured to., It was a visually gorgeous movie but I left the theatre with a bad taste in my mouth.