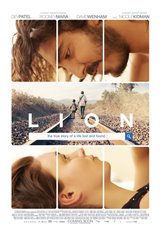 Lion
| 74 Reviews
Write a Review
In Theaters: January 6, 2017
On DVD/Blu-ray: April 11, 2017
4.59/5
Based on 204 votes and 74 reviews.
Please rate between 1 to 5 stars
Showing 1-10 of 74 reviews
August 12, 2017
Dev Patel shows us that he can act in a serious role as well as he did in his comedic roles in the Marigold Hotel series. A moving story about lost relations and searching for your roots.
June 27, 2017
A true story that brings tears to one's eyes. Excellent acting and the scenes of India were spell bounding. This is a must watch movie for those with an adult mind and would probably not be interesting for anyone under the age of 25
April 29, 2017
One of the best movies I've seen in years!
March 30, 2017
Excellent movie
March 26, 2017
Best movie I've ever seen
March 12, 2017
It was an unforgettable journey from being lost to being found; The loss of innocence, and faith in the fundamental goodness of those whom we love; universal family values. It was a GREAT movie.
March 9, 2017
Beginning is fabulous, gripping, well crafted, well shot. The middle loses it's way big time. The ending redeems the movie, particularly as it's a true story. There was an opportunity to make this a great film, it definitely did not deliver for me.
March 4, 2017
Sad but boring. I spent the last 40 minutes of the movie thinking, "Just look up Ganesh* on Google ... why is it taking so long" I do not understand why it was nominated for an Oscar ... were all the other movies really that bad?
February 27, 2017
Good movie and great acting! Strongly recommend.
February 27, 2017
Wonderful movie. Tear jerker! The little boy who plays the part of young Saroo was amazing! Your heart breaks for Saroo and all the characters centered around him. It's hard to imagine the pain of both his birth mother and adoptive mother. Great, heartwarming outcome.