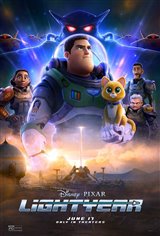 Lightyear
105 Reviews
|
Write a Review
In Theaters: June 17, 2022
1.95/5
Based on 404 votes and 105 reviews.
19.69%

4.66%

0.00%

2.59%

73.06%
Please rate between 1 to 5 stars
Showing 1-10 of 105 reviews
July 5, 2022
Boring, clueless, hard to understand for kids, Does not makes any sense at all.
July 5, 2022
They didn't even try. Sad and pathetic. Protect your children, not worth it. They ruined a good kids character.
July 5, 2022
Pushing a wicked, sinful agenda onto kids. Nothing that has not already been foretold, but still ugly.
July 5, 2022
Going to see it again
July 4, 2022
Disney's grandchildren pushing their woke agenda to children.
July 4, 2022
For any traditional family with values Disney is simply done and over with ...do not push garbage down our children's throat...do you show heterosexual mommy and daddy kissing in your movies? NO! Because all Disney is doing is pushing an agenda...no more Disney for traditional families is my advice.
July 4, 2022
My daughter (9) and I loved the movie. I didn't have to explain to her why 2 women kissed because she is aware of the reality of the world. Same sex relationships are REAL. Love is love!!! Pretty sure that wasn't the point of the movie, however...
July 3, 2022
Why not Tim Allen ??? Why push some agenda to kids
July 3, 2022
Missed Tim as Buzz. And not a fan of woke kids entertainment. Turned me off. Won't be watching this type of movie again.
July 2, 2022
Garbage