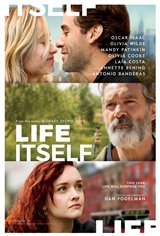 Life Itself
| 48 Reviews
Write a Review
In Theaters: September 21, 2018
On DVD/Blu-ray: December 18, 2018
3.62/5
Based on 112 votes and 48 reviews.
Please rate between 1 to 5 stars
Showing 1-10 of 48 reviews
October 4, 2018
This was one OF THE WORST MOVIES I HAVE SEEN! There was absolutely nothing about it that I enjoyed and another couple sat behind me and their words was "THIS MOVIE IS DISCUSSING". No true words could be said!! Don't waste your time or money. The only award it should receive is the TRASH CAN AWARD!
October 2, 2018
"We're all part of a greater story" - just like it says in the trailer. What a brilliant movie. Oscar worthy and deserving of more than 5 *****
October 1, 2018
this was simply filthy so bad language we got up and left 30 minuets into it
September 30, 2018
Loved everything about it
September 27, 2018
Great acting. Great director. Great story. Movie was not hard to follow. All you had to do was watch it and the story unfolded perfectly. It has a realism that may not be to everyone's taste as entertainment.
September 25, 2018
Excellent acting by all performers ! I agree with another reviewer, Antonio has aged very attractive. Also his acting was outstanding! I liked how the story came full circle at the end. I did not expect that.
September 25, 2018
okay story, long time getting there, did like all the main players though
September 25, 2018
This was such a convoluted movie that I still,after seeing it two hours ago, haven't figured out what it was about. A movie for the intellectual segment who will say it was great even though they themselves didn't understand it.
September 25, 2018
OK, I own three Brussels Griffons like FFace in the movie. BUT, I did not know about the dog. The emotional roller coaster, laugh, cry, first loves, betrayal, and on. It is a wonderful movie and oh Antonio, you've aged beautifully. I try to see all movies, this is the one I will see again. Just what I wanted, how they used to make movies.
September 25, 2018
I loved this movie, an emotional, wonderful movie all about love.