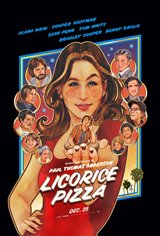 Licorice Pizza
| 19 Reviews
Write a Review
In Theaters: November 26, 2021
On DVD/Blu-ray: May 17, 2022
3.07/5
Based on 58 votes and 19 reviews.
Please rate between 1 to 5 stars
Showing 1-10 of 19 reviews
February 11, 2022
What a waste of money. I kept waiting for it to get better but it never did. The whole movie made no sense. It was a messed up jumble of nothing.
February 2, 2022
A waste of money. A very bland movie. I kept waiting for it to get better, but it never did.
February 1, 2022
This movie is youth. It is hope. It recalls tough political times, not unlike our own, but it is teeming with love and a vigorous belief that the fight is worth it, Things will get better. It embodies the vibe of the 70's. Brilliant acting by the entire cast. Not one errant line. We are fortunate to have the two new stars,
February 1, 2022
This film is made of hope. It is original, witty, wry and authentic. The two starring performances by Cooper Hoffman and Alana Haim are refreshingly new and delightful. Why is there no Oscar for most impressive debut? See this film now! This movie could not have come at a better time.
January 28, 2022
Good movie. Terrible title.
January 16, 2022
Too slow, you wait and wait for something to grab you and when it comes it's a complete let down. I had to leave because it wasn't worth my time.
January 16, 2022
These are 2 hours you will not get back. I say 2 because the scenes with Bradley Cooper are worth a watch. The rest of it is wrong on several levels. Perhaps it's aiming for creative. It's like giving a toddler several cans of paint and no canvas or brush and leaving the house for three hours. Then, inviting friends to come over and eat hot pockets and smoke weed while silently observing the resulting "art show" complete with food, feces and paint smeared throughout the house. Seriously, what was that?
January 13, 2022
A mess. All the way through. Completely unbelievable story. Wish I hadn't bothered with this one.
January 12, 2022
Too many starts when it should have ended halfway through