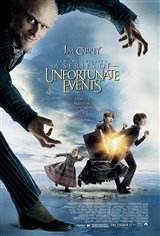 Lemony Snicket's A Series of Unfortunate Events
3.89/5
Based on 9215 votes and 256 reviews.
Please rate between 1 to 5 stars
Showing 1-10 of 256 reviews
May 6, 2018
WTF? Wat was that baby chwing the table supposed to be? Was it supposed to be funny or what? It was creepy. The girl is dressed like a gothwhore. The kids are all annoying, their uncle would be a source of my nightmares if I watched this crap as a child. Too bizarre for kids, too cheesy for adults.
March 3, 2018
Exactly the type of movies I can´t stand, with obviously fake surroundings pretending to be artistic and stylish, with annoying over-the-top hypersmart brats.
February 8, 2007
No actor in the world has an energy like Jim carrey... and about Emily i fall love with this wonderful acteress. she is the best.
December 28, 2006
It was an awesome movie...NO MATTER WHAT THOSE CRAZY PEOPL SAY! *people in white rush in and give me a shot* ...sorry... but my friends think it was a little on the off side... AND THEY ARE JUST LIKE THE OFF SIDE!
October 12, 2006
Of course Jim Carrey totally delivers, and this film is on the dismal side. So that`s why I liked it. I thought it was funny to see all the different characters Jim Carrey was playing. But I don`t think everyone will like it.
August 2, 2006
Good acting by Jim Carrey. Also very good acting by Meryl Streep. Sunny was very funny. Beaudelaire children were ok. OK movie. 3 stars
June 30, 2006
My mom said that she would only go see the movie unless i read the books and i did ALL OF THEM i wanted to see it because it looked funny and liam looked really cute but i got to see the movie and i didn`t like it I LOVED IT !!!!!!!!!!!!!! emily did a great job at voilet, sunny was sooo adorable, "count olaf" was funny, and LIAM WAS SOOOO CUTE!!!!!!!! from a fan valerie pierce,15
June 30, 2006
i think the movie was great and so are the books.
May 5, 2006
It was alright. It was pretty faithful to the books but Jim Carrey has done better movies.
April 19, 2006
One word. Horrible.