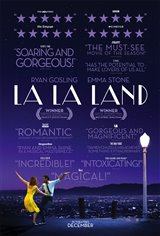 La La Land
| 151 Reviews
Write a Review
In Theaters: December 9, 2016
On DVD/Blu-ray: April 25, 2017
3.66/5
Based on 360 votes and 151 reviews.
Please rate between 1 to 5 stars
Showing 1-10 of 151 reviews
September 20, 2017
Best movie I've seen in a long time. Captivating story with decent singing and dancing and great music throughout. It's inspiring to see a modern movie that's just plain fun. No over the top effects, violence or needless foul language and sex scenes. I'll be watching it again soon.
September 18, 2017
It's a decent movie, not one I would spend a ton of money on. Most of the songs were forgettable but i enjoyed the dancing and it seems all the actors and actresses had fun making it.
June 10, 2017
lamest "musical" ever. dancing was dreadful, songs were forgettable, acting was terrible, anything to do with jazz was borrrring. most overrated movie I have ever seen in my entire life, and I love musicals.
May 8, 2017
I lost a layer of enamel grinding my teeth in frustration: the actors couldn't act, they definitely couldn't dance, and the story "line" was so ginned up it was drunk on its own delusion of grandeur. The only good thing about this film is when they LOST the Oscar at the Academy Awards.
April 21, 2017
It was wonderful to see the young generation of actors dancing, playing piano and singing! Romantic yet it doesn't always work out the way we plan! Should have won Best Picture!
March 29, 2017
Excellent music & acting. Should have won the Best Picture oscar!
March 26, 2017
So over rated. It was painful getting though this movie. I don't get what all the fuss was about.
March 24, 2017
Beautiful film, beautiful music, beautiful actors. The storyline was captivating and I will watch it many more times in the future.
March 24, 2017
Great music. A captivating new song I keep humming and the dancing was supurb.
March 23, 2017
Beautiful dancing, anyone who criticizes does not know how to dance. Loved the movie