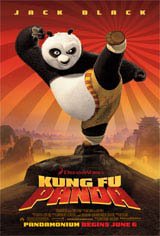 Kung Fu Panda
136 Reviews
|
Write a Review
In Theaters: June 6, 2008
3.98/5
Based on 1297 votes and 136 reviews.
58.49%

9.40%

14.22%

7.11%

10.78%
Please rate between 1 to 5 stars
Showing 11-20 of 136 reviews
September 6, 2008
Im 12. I really liked this movie, it had LOADS of comedy that had the whole theatre laughing! I cant wait for it to come out on DVD or blue ray.but my most favoritest movie is WALL-E. look for more of my reviews.... DOLL
September 3, 2008
a wonderful movie, me and my sister loved it, a great idea for a movie. look for more of my reviews Doll, a kids side of view for you
September 1, 2008
This movie is so funny. i was laughing my butt of.. it was the best movie i ever watch
August 21, 2008
absolutely awesome. i laughed the entire movie.
August 18, 2008
This Movie Was THE MOST FUNNY MOVIE FOR CHILDREN EVER!!!!!!!!!!!!! My family and I went to see the movie and we all desided that if we had a choice of a Second movie " Kung Fu Panda 2 we would go and see it RIGHT AWAY!!!!!!!!!!!!!!!!!!!!!!!!!!!!!!!
August 16, 2008
Awesome and funny movie! A great movie for kids of all ages who like action and humour!
August 15, 2008
wow full of action and adventure rally for the kids. a four star. Look for more of my reviews. E.B.A.
August 7, 2008
Unless u are a child don't bother starts off really slow fell asleep but then picks up but not for adults
August 1, 2008
unless you are 5, otherwise don't watch it... that's 90 mins of my life i will never get back... why, why...
August 1, 2008
I LOVE KUNG FU PANDA IT WAS A GOOD AND FUNNY MOVIE!!!!!!!!!!!!!!!!!!!!!!!!!!!!! Jack black roxs