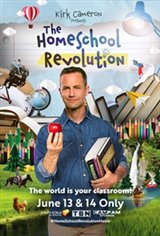 Kirk Cameron Presents: The Homeschool Awakening
4.29/5
Based on 40 votes and 11 reviews.
Please rate between 1 to 5 stars
Showing 1-10 of 11 reviews
June 17, 2022
We had it all backwards! Selling our daughters to woke and grooming teachers was a huge mistake. No one will teach like we can as parents.
June 17, 2022
Education-industrial complex beware! Parents have options. Cameron lays it all out well. Time to get busy teaching your kids and reclaim learning.
June 14, 2022
Ty, Kirk Cameron! Honor and glory to God!! Praying for the lost everyday…🙏🏻🕊??🌞
June 14, 2022
We are new to homeschooling. We just finished our first year with our elementary aged daughter and decided to pull our rising 9th grader due to constant issues in the public schools. This gave us such encouragement and it was great seeing and hearing the perspective from graduated homeschoolers in the film. This film would be great for the entire family and helped ease my husbands concern about homeschooling!
June 14, 2022
Well done we all know most public schools are teaching our kids the wrong messages on there woke ideological ideas to brain wash our kids. This just shows that there are other options for our kids
June 14, 2022
I loved the whole thing. I have a special needs student and they made me see that I'm the best person to school my child.
June 13, 2022
So informative on homeschooling for new ones, and encouraging for homeschool veterans!!
June 13, 2022
Do not waste your time and money. More of Cameron expressing his opinion. NO FACTS just his distorted view.
June 13, 2022
What did I dislike? Kirk Cameron trying to impose his views and beliefs on the rest of the country.
June 9, 2022
It was presented well with facts and how to remedy situation for Children