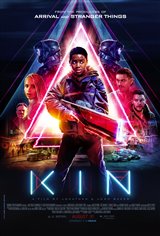 4.06/5
Based on 32 votes and 9 reviews.
50.00%

25.00%

12.50%

6.25%

6.25%
Please rate between 1 to 5 stars
Showing 1-9 of 9 reviews
September 21, 2018
Better than THE LAST AIRBENDER!
September 11, 2018
The characters in this movie have such misguided morals of what is right and wrong, making this movie difficult to watch. Did Hollywood believe that CGI could save this movie? Wrong. Wait for it to go to the cheap theaters or Netflicks.
September 8, 2018
Pros: Setting: takes place in believable settings Actors/Actress: good acting by Myles Truitt (plays Elijah), Jack Reynor (plays Jimmy), Dennis Quaid, Zoe Kravitz and excellent acting by James Franco. Plot: is good with a sci-fi twist Storyline: easy to follow Cons What I disliked was the strip club setting. I do not think it was appropriate or necessary, particularly for a PG-13 rating.
September 6, 2018
So much potential. Acting falls a little short across the entire movie.
September 5, 2018
Interesting storyline, great acting, slow moving but nice twist to the end.
September 4, 2018
Slow start but good end
September 2, 2018
The best pls make kin 2
September 1, 2018
Interesting storyline that kept me interested! Liked the humorous interactions between the brothers. A bit of science fiction but far from overdone ! Surprise ending. Overall an enjoyable movie!
August 27, 2018
HELLO MOVIE FANS . A FEW MINUTES AGO . I JUST WATCH THE KIN MOVIE PREMIERE . AND I LOVE THIS ACTION SCI FI MOVIE . AND I JUST WANT TO KNOW HOW DO YOU LIKE THIS MOVIE . AND IF YOU LIKE THIS MOVIE ALOT PLEASE SEND ME A NOTE . AND THANKYOU VERY MUCH .