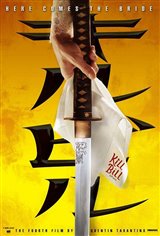 4.38/5
Based on 10403 votes and 225 reviews.
Please rate between 1 to 5 stars
Showing 51-60 of 225 reviews
December 23, 2003
WICKED GORRY SCENES ***** STARS
December 22, 2003
Quentin does `Tribute` movies. This one is based on the Oriental/Kung Fu/Samauri movies of the 70`s (Uma`s clothing when she is in Japan, is even a tribute to Bruce Lee). I also get a kick of the choice of music he used for his movies...you have to think, but the music fits the scene and it`s sometimes a comedy.
December 18, 2003
BEST MOVIE EVER MADE!!! Tarentino you are a brilliant man! im totally excited to see volume 2!!!
December 10, 2003
it was amazingy funny 5 stars
December 10, 2003
It was like watching the national ballet of Canada do Kung Fu. The cheorgraphy was really good. Overdid the blood spurting out of chopped off arms though. Should have edited the movie down to one volume. Feels awful long for a movie with no plot (so far).
December 9, 2003
It was a bloodbath designed to appeal to the lowest common demoninator of society. No plot, not character development, no point. A movie should not be considered good based on how many gallons of fake blood it uses.
December 7, 2003
Quentin is a god. He has a style and an edge like no other director. Watching this movie was like a religious experience. At times I was jumping up and down in my seat at the creative and artistic way he does old things in new ways. I was mesmerized, even more so than with Jackie Brown. I just wish the movie could have the same emotional impact on a second viewing - JB didn`t. I wonder if any movies ever do?
December 5, 2003
this is an amazing movie. tarantino is an absolute genuis. SEE THIS MOVIE. you wont be able to take your eyes off it.
November 30, 2003
sometimes, you just want to get your money back...truly one of the worst films of the year
November 25, 2003
Awsome!! Please people this is a really good movie.. and Uma... Baaaby! Exciting from start to finish, Kill Bill Vol 2 in Feb, it should have come out a little sooner, but thats marketing i guess.