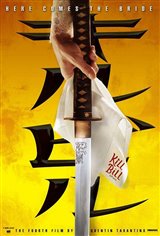 4.38/5
Based on 10403 votes and 225 reviews.
Please rate between 1 to 5 stars
Showing 41-50 of 225 reviews
January 19, 2004
Tarantino makes a kung-fu movie! Better than i could have ever hoped for. This is one of the coolest movies ever made and solidifies Quentin`s place as a film visionary.A fantastical orgy of violence, when i wasn`t laughing hysterically i was shaking my head in wonder.
January 19, 2004
Kill Bill is one of the best action movie i every sow
January 6, 2004
Kill Bill is simply the best movie in 2003, one of the best ever...
January 3, 2004
The Worst Movie I Have Ever Seen,I Don`t Under Stand Why This Movie Was Even Made,Don`t Waste Your Money On It, You`ll Be Regreting It For Your Whole Life.
January 1, 2004
A brilliant masterpiece. There isn`t much else to say except that Tarantino is a genius and Uma Thurman proves shes one of the best actresses working today
January 1, 2004
Put your reality filter aside and sit back for a rolicking good movie. Campy, violent and overdone, yes, but visually enervating and Tarantino`s sense of timing is exquisite. Thurman an Liu are the perfect enemies. The fight scene in the Japanese disco was a masterpiece of excess surpassed only by the sublime Thurman vs. Liu fight scene that follows. Can`t wait fo Volume II.
December 29, 2003
sounds exciting and very good story line!
December 27, 2003
i think this movie is very unique, i love the way he mixes cartoon with reality...the sound effects, the costumes...they were all amazing. I can`t wait to see the second movie
December 26, 2003
Kill Bill is thee greatest movie. Taraintino is the greatest director.
December 24, 2003
Classic