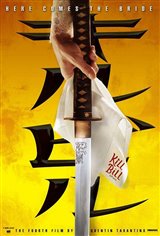 4.38/5
Based on 10403 votes and 225 reviews.
Please rate between 1 to 5 stars
Showing 31-40 of 225 reviews
February 19, 2004
.....no`1 film of 2003 kill bill................
February 19, 2004
k.bill is the best movie of the year .the fighting scence where great uma thurman was excellent .i loved the whole movie defently got to see kill bill volume 2 ................
February 13, 2004
Kill Bill Vol.1 has to be Quentin Tarantino`s best work since Reservoir Dogs and Pulp Fiction.It was very gorey,but what do you expect it`s Tarantino.This is simply a masterpiece,that was taken from the brillant mind of Tarantino.Incredible performance by Uma Thurman,who in the past couple of years has mostly done sucky movies like The Truth about cats and dogs and plus she finally divorced that god awful looking Ethan Hawke.Vivica A.Fox,short but sweet role,Daryl Hannah,a villian you love to hate,Lucy Lui,Cottonmouth[nothing to say about that] and Michael Madsen who is great in everything he`s in.This low,raspy voiced actor made his landmar
February 11, 2004
i think its awesome but i think the part where the blood n crapi think that wush stupid cuz da blood ish squorting n crap
February 8, 2004
I love Tarantino and all his work...he came back with the best movie this year and i was left in shock and i cant wait to see the vol 2. acting was great, style was the best, all his movies have the best style. definitly gunna buy this WATCH THIS MOVIE!!
February 3, 2004
the best action movie of all time Tarantino is always the best. Asside with Pulp Fiction This movie is a classic that everyone must see
January 30, 2004
Look, Tarantino made it. All his films are so great.(Including the ones he wrote) so naturally this was goona rock...and it did.
January 28, 2004
Kill Bill was amazing...you didn`t know what to expect next.
January 25, 2004
Brilliantly stylized. An absolute pleasure to look at......Will one day be playing on the big screens of crowded dance clubs
January 23, 2004
I`m a 29 year old female who`s never watched a single kung fu movie in her life and I absolutely LOVED this movie! This movie has it all: lots of twisted humour, fantastic action scenes, witty dialogue, great music, an amazing anime sequence and it was just visually spectacular. I couldn`t take my eyes of the screen for 1 second. I saw it twice! Not for the faint hearted. Uma makes me proud to be a woman!