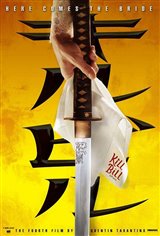 Kill Bill: Vol. 1
225 Reviews
|
Write a Review
In Theaters: October 10, 2003
4.38/5
Based on 10403 votes and 225 reviews.
80.32%

4.36%

1.41%

1.06%

12.85%
Please rate between 1 to 5 stars
Showing 21-30 of 225 reviews
April 16, 2004
It was a bloody mess.....brilliant!*****Stars
April 15, 2004
TARANTINO`S MASTERPIECE IS KILL BILL! GREAT STORY-SUPERB CAST!
April 15, 2004
Katana fighting at its best
April 7, 2004
Simply Beautiful!!! Tarantino once again succeeds in pushing film making to the edge. Eventhough this film is not quite as innovative as Pulp Fiction it was still great, some might say that Tarantino stole ideas and concepts from other classic films while others maintain that he is simply paying tribute to those who inspired him. When dealing with Tarantino there is no middle ground you either love him or despise him but, no matter where you stand you cannot deny the fact that this man is the epitome of independent filmmaking.
March 30, 2004
i think that this was probably the best movie i`ve ever seen!..it`s appropriate that the DVD comes out on my birthday!!!..Pete the feet
March 17, 2004
A waste of time.
March 1, 2004
awwsome...A must see
March 1, 2004
Great. Incredible camerawork...great costumes...great acting...
February 24, 2004
I fell asleep. Too much gore, no plot. two thumbs down.
February 20, 2004
I Love Uma :o). And all that.