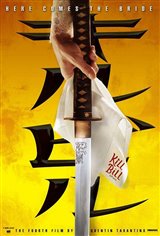 4.38/5
Based on 10403 votes and 225 reviews.
Please rate between 1 to 5 stars
Showing 11-20 of 225 reviews
September 10, 2004
wow, kill bill is sooo good
August 17, 2004
Kill Bill is really impressive. After seeing Uma Thurman in an action movie, she suddenly became one of my favourite female actresses. Hats off to Q and U for this amazing action movie.
July 31, 2004
To much anime...to fake to be real.
June 17, 2004
It was a great movie, I loved the was it was directed, I felt like I ws in the movie, I was glued to the screen from beginning to end and when it was over I was left aching to watch vol.2 I really look forward to seeing it, for the enjoyment of getting sucked back into the screen.
May 10, 2004
one of the best films i have ever seen, i love taratino movies, they`re so point-blank and in-your-face, i love the aggresssion....five stars
May 3, 2004
It´s a masterpiece. The way that Tarantino introduces us the fascination for blood in this society, the violence and at the same time gives us a great job is AMAZING, AWESOME and FANTASTIC
May 2, 2004
this movie is one of the greateset movies out there, it is a bit corney but once you realize that this is part of the movie you just have a laugh with your friends. never the less this movie was filmed in a very interesting way providing the viewers with great angles and sceneries. one of the best features of the movie is the sound track, which is just as important as the filming itself. great movie and the only people who gave it a one star are the ones who didnt give it a chance (or the ones that are scared of a little blood)
April 23, 2004
The best movie of all time!!!!!!
April 19, 2004
The plot was great, But much TOO MUCH VIOLENCE, GORE and BLOODY. Also disappointing that it just ended without warning that it was a two part movie. I felt tricked!
April 18, 2004
It was a typical taratino movie with the same backwards and mixed up story telling. It was good but I did expect it to be better. Mabey the next part will be better.