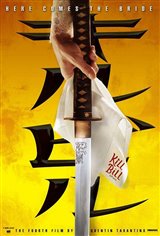 4.38/5
Based on 10403 votes and 225 reviews.
Please rate between 1 to 5 stars
Showing 1-10 of 225 reviews
October 20, 2011
This is one of my favourite movies of all time. I loved every second of it. Lots of action, epic battles, gore, awesome scenery. I could watch this again and again.
March 15, 2007
KILL BILL WAS A GOOD MOVIE QT MAKES GOOD MOVIES I HOPE HIS NEW MOVIE GETS BOMB AT THE BOX OFFICE KILL BILL ROCKS
March 13, 2007
omg its an awesome movie. im not that into gory stuff but they made this movie in an excellent way.. thumbs up from me
August 29, 2006
LOVED IT SO AWESOME IT WAS GROSS AND COOL swearing BUT COOL
July 28, 2006
Awesome movie! Lot of blood, which kind of surprised me, but it went well with a Quentin Taratino film. I love the action sequences and the movie is incredibly awesome!
June 14, 2006
oh my!!!!!! what a stupid good for nothing movie..ugh......i hated every second of it..it was all killing,,,just like sin city,,,but sin city was worsat!do not c this movie...bad!!!!!!!!!!
May 23, 2006
a complete waste of money..a stupid pece of garbage!!!!!!
September 16, 2005
The movie Kill Bill is in a sense a masterpiece that justifies revenge. The lack of story just makes it into a bloodbath. People can say what they want, I don`t agree with the way QT tries with a `heroic` actress (Uma Thurman) to pack blood on the screen..
March 9, 2005
NOONE LOVES THESE FILMS LIKE I DO!
November 6, 2004
To all the people that say this movie is to fake to be real i say this. What are you talking about. This movie wasn`t created to be real. it was created to pay tribute to two kinds of movie genres, the old japanesse samurai movies, and westerns. So if your going to put this movie down then your not a movie buff and you wouldn`t be able to see a great filmaker in action if it hits you.