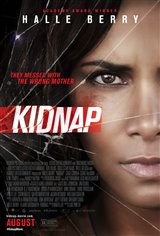 Kidnap
81 Reviews
|
Write a Review
In Theaters: August 4, 2017
On DVD/Blu-ray: October 31, 2017
3.4/5
Based on 320 votes and 81 reviews.
28.57%

25.56%

22.56%

3.76%

19.55%
Please rate between 1 to 5 stars
Showing 51-60 of 81 reviews
August 7, 2017
Awesome movie and Halle Berry was excellent!!
August 7, 2017
Unrealistic situations that turn bizarre and more outlandish as the movie progresses.
August 7, 2017
Halle did intense and great job.
August 7, 2017
Treads the same ground as Berry's earlier film THE CALL, but lacks that film's solid direction.
August 6, 2017
This movie could net Halle another Oscar.
August 6, 2017
Absolute horrible and ridiculous movie. Nothing but an unbelievable car chase and at times all you see is pavement and a yellow line.Surprised Halley made such a poor, poor movie. Don't waste your money on this one.
August 6, 2017
Hands down the thriller of the year.
August 6, 2017
Great fast paced movie and never boring ..rate 5
August 5, 2017
What a ride! Non stop action! Edge of your seat thriller! Halle berry did a great job, her expressions of fear and anger were well done, liked the beginning, that I won't give away. Far fetched yes, but great entertainment. These two seniors loved it!
August 5, 2017
Not a fan of HB, got free tickets to check this out so we did. Glad it was free as this movie and HB really stunk. Won't even go into the particulars as there are too many. Avoid at all costs.