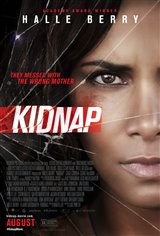 Kidnap
81 Reviews
|
Write a Review
In Theaters: August 4, 2017
On DVD/Blu-ray: October 31, 2017
3.4/5
Based on 320 votes and 81 reviews.
28.57%

25.56%

22.56%

3.76%

19.55%
Please rate between 1 to 5 stars
Showing 41-50 of 81 reviews
August 9, 2017
Movie suck it's all driving and when it's not it's things that are stupid no one hear her .. farfetch for these days..
August 9, 2017
VERY BAD EDITED
August 9, 2017
Puke. Nothing original here, folks.
August 9, 2017
Seriously, what a stinker! Not even worth the time to write a review after wasting time watching this crap.
August 8, 2017
HALLE BERRY WAS TOTALLY AWESOME
August 8, 2017
One of the best movies! Very intense and action thrilling movies we have seen a long time. It's definitely a must see movie.
August 8, 2017
Finally a good, intense and fast paced summer movie. Not much time to take a breath. My 12 year old daughter loved it. I'm not sure why the reviews have been low. This is better than all the summer movies I've seen so far. 90 minutes flew by.
August 8, 2017
BETTER THAN THE MOVIE TAKEN!!!!!!
August 8, 2017
Didn't Halle Berry make this movie already? A few years back?
August 7, 2017
Enjoyed seeing Halle Berry back on the big screen.This movie had me at the edge of my seat the whole time! Halle Berry was amazing!