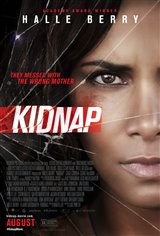 Kidnap
81 Reviews
|
Write a Review
In Theaters: August 4, 2017
On DVD/Blu-ray: October 31, 2017
3.4/5
Based on 320 votes and 81 reviews.
28.57%

25.56%

22.56%

3.76%

19.55%
Please rate between 1 to 5 stars
Showing 1-10 of 81 reviews
January 21, 2018
dumbest unrealistic movie waste of time
November 4, 2017
Horrible trash..nothing entertaining here.
September 28, 2017
It was always exciting--never dull. My interest was above average but no Oscar nominations. It was a bit of a fantasy that one woman could do all that Halle Berry did, but I always like happy Hollywood endings.
September 17, 2017
Halle Berry still going strong
September 10, 2017
Reaches a point of no return as far as believability. Too bad.
September 7, 2017
this movie was a waste of time. Halley has played better parts in other movies. I was very disappointed as I enjoy her acting but this one just didn't do it at all for me. There were parts that were predictable and at time boring.. Most of the movie was her driving along the road, no police investigation which is usually what happens on a kidnapping until the very end. I would recommend this movie to anyone. Save your money for another one..
September 6, 2017
Unrealistic, not a good movie.
September 6, 2017
This movie was awesome. I'm not really a Halle Berry fan but she played an excellent role. As a Mother I would of done the same as she did to get my child back.
September 3, 2017
Very tense thriller. Great pacing and direction. Kept me at the edge of my seat throughout.
September 2, 2017
94 mins of my time I will never get back! I like Halle Berry but this movie was awful!