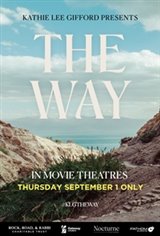 Kathie Lee Gifford Presents: The Way
33 Reviews
|
Write a Review
In Theaters: September 1, 2022
Musical | 1h 15m
1.54/5
Based on 70 votes and 33 reviews.
5.71%

2.86%

8.57%

5.71%

77.14%
Please rate between 1 to 5 stars
Showing 31-33 of 33 reviews
September 2, 2022
If you read what Kathie Lee's stated intention is for the movie, it is to remind people today of God's desire to have a community with us- to be a resource to the faithful. But the commercial descriptions made it sound like a narrated musical presentation of the Bible. What I had expected was Bible stories and what I got was a long music video that seemed disjointed. It started with some basic OT - got to Abraham, then Moses, then a Joseph cameo- and then suddenly talked about Mary. I had to go looking for her reason for making the film to understand if there was a point to what I had watched. The book may accomplish her other stated goal of opening up the Old Testament to today's Christian and I'm looking forward to reading it. Watch the movie and enjoy a 90 minute music video celebrating God's love.
September 2, 2022
The music and cinematography was amazing....top quality Wish is was in the mainstream theaters so more could see this!
September 1, 2022
The Music with the singers was very powerful. Expected with the Narration to feature the singers at some actual areas of where the Bible stories occurred. My sister said it looked like areas of Utah. Overall enjoyed listening to the singers