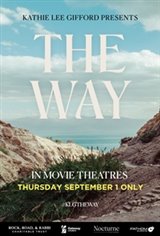 Kathie Lee Gifford Presents: The Way
1.82/5
Based on 78 votes and 36 reviews.
Please rate between 1 to 5 stars
Showing 21-30 of 36 reviews
September 2, 2022
Like most of the one star commenters, I was disappointed in the fact that the lips weren't synced with the narration or lyrics. But, unlike many commenters, I began to understand the disjointed stories were categorized under each theme song. And for me, the songs and visuals were very meaningful. (I was overlooking the flaws and looking for the intended meaning of the art) … and I found the themes to be very rich and meaningful. What I saw in scene 1 was how difficult FAITH is, and how God completed what He started and enabled those men of flesh (Abraham, Sarah, Moses, Joshua) to TRUST HIS WORD and conquer the ground He promised to give. It fueled my faith and encouraged me greatly. The other glorious theme was "the other side" … I'd never considered the categorizing of "going to the other side" of the Red Sea (deliverance from bondage) the Jordan (for attaining the promised land) and crossing the Sea of Galilee to deliver the demoniac … all pointing to our CROSSing the sea to HOME in the Lord. I also want to ponder further The God of the How and When. There's so much in that song that makes me want to watch it again. My closing thoughts: I'm so proud of KLG for investing and putting herself out there. I saw in her promotion of the film and in her narration her deep love for Jesus and her genuine desire for humanity to see and know they are LOVED and WELCOMED into the arms and home of God. Also, if the voices could be heard a bit better over the orchestra, they were stunning. I'm praying that the technical issues can be repaired and that many will get to see and hear the heart of God in sending Jesus to deliver us from slavery to sin and self, and get us HOME!
September 2, 2022
I will not belabor the comments already given. I too was most disappointed by the fact that the movie's story jumped around so much even I found it hard to track the story and I have been a Christian for many years. The orchestra was way too loud. It drowned out the excellent voices which were hard to follow anyway given the their words weren't in sync with the music. What a shame. The movie stopped short of talking about Christ's return which is the hope of every Christian. I was surprised that it seemed no one previewed the final version before letting it hit the screen. It could have been such a great testimony to Christ and a message of salvation all need to hear.
September 2, 2022
Hot mess from beginning to end. The words of songs did not match with actors singing. Even Kathie Lee's narration was off. The sequence of the Bible stories or history was out of order. Although I'm sure this was done intentionally, a new or non-Christian would be thoroughly confused. Big letdown that it was not filmed in Israel but somewhere in a desert?! I knew in advance it was about Jesus and bought buttered popcorn otherwise it would have been a total loss. Really bad!
September 2, 2022
I love Kathie Lee Gifford however this movie was not good at all. What bothered me the most is the movie was shot where the camera was below the the person singing so you were looking up their nose or even could see the top of their teeth. The movie went back an forth old testament to new testament and then back again. The whole movie is a musical with Kathie narrating. I was not happy I spent $20 a ticket. Positive's- the singing was pretty. Beautiful landscape, thank goodness the movie it was only an hour long.
September 2, 2022
Horrible
September 2, 2022
It's hokey, it's cheesy, and Kathie Lee Gifford's hyped-up narration is embarrassing to watch..They probably did a theatrical release to qualify for awards, but this will win no awards for sound editing. The singers look like they're lipsynching to a totally different song, the video is so off. It's generally pretty to watch, and the music is lovely. I paid $16 (no senior discount allowed because it was a "special" showing) to watch a mediocre music video.
September 2, 2022
First, the music is beautiful and so is the scenery. However, the video/sound sync was so far off I began to wonder if they were lip synching to a different sound track. In movies and music videos, the actors lip synching to a pre-recorded track actually sing so it looks more natural--this looked strange. I couldn't look at their mouths. This was distracting. Kathie Lee's narration was overdone and overly dramatic as well as out of sync. It made me think she wanted this movie to be about her. All that said, this should be licensed as a stage production.
September 2, 2022
So disappointed and embarrassed for all involved. I hope they can fix this movie/song video and remaster all the sound. I like Kathy Lee very much, and we paid top dollar to see the movie to support it. It is not evangelistic and would not draw younger people. It's disjointed, you could not hear the narration and you could not hear the people singing, just blasting Orchestra. We know all those singers are professional, Danny Gokey great voice and others. But it didn't make sense, jumped all over the place, modern eyeglasses on the disciple, using one singer to go through 1000 years, and I don't think Kathy Lee should have narrated it. She should've directed it but left the narration to someone else. We so need revival and I was hoping this movie was powerful and engaging, but honestly I've been a Christian all my life and I had to walk out towards the end. Its my hope and prayer that they will get this remastered and the sound corrected before it goes to DVD and streaming. I think they need to add scenes to it. If you did not already know the Bible, you would not have any idea what she is saying. I'm so so sorry. I know how expensive it is to make a film, and I cannot believe there weren't focus groups and this movie was not critiqued before it aired. I'm going to keep Praying They are able to save it. My heart goes out to her right now. If you are going to make a Christian production, it needs to be engaging and it needs to draw younger people a child should be able to watch that and completely understand it. That would not make me want to read the Bible. I'm sorry to be so honest, I'm praying that they'll be able to fix this. Good concept, but sort of deceiving in the advertising. This was advertised as a movie it's not really a movie it's a music video. All hearts were in the right place it just missed the mark. I haven't read the book yet but I hope it's successful
September 2, 2022
GREAT CONCEPT; STILL POSSIBLE TO SALVAGE IT I wanted this film to succeed. Yet, there are a few things working against its beauty and brilliance. The overtly anachronistic staging of this film took a while for me to accept. Modern vocalists, with modern beard cuts, modern clothes (albeit dressed-down) and sometimes even with eye-glasses, lip-sync to some compelling choral and solo pieces, while re-telling/re-enacting select stories from The Bible. The dramatizations are typically staged in a natural setting, such as a mountaintop, edge-of-the-desert, edge-of-the-sea, on the sea, or even in a village. Two major problems: 1) The singing is all-too-often drowned out by the instrumental accompaniment. I noticed the name of "Kent Hooper(Hopper?)" as the mixing engineer for some of the scenes. He made a poor choice in the orchestral accompaniment level. The orchestra is lovely, but it drowns out the singing and the narration. I strained to understand the lyrics and Kathy Lee Gifford's narration with all that pounding music. It is written, "sing praises with understanding." PS 47.7. THE MIXING ENGINEER SHOULD REMASTER THIS BEFORE DVDS ARE RELEASED. 2) The other nagging problem is the multiple lip-synced musical passages, in which the lips are not synced at all. It's ugly. THE MIXING ENGINEER SHOULD REMASTER THIS BEFORE DVDS ARE RELEASED. Out of four(4) single-theme segments, the easiest to relate to was part 4, "The God Who Crosses to the Other Side." The dramatizations of Bible characters, who experienced Divine Deliverance, were compelling and moving. Another segment, featured a lovely vocalist sequentially playing three roles. It was hard to wrap my head around this performer acting out the experiences of Hagar, Ruth and Mary, with little discernible break between the episodes. This distinguished talent could have been better managed. Looking ahead, I want to get the sheet music.
September 2, 2022
Extremely disappointed. Invited numerous friends to go, paid top dollar to watch a music video. Lips and singing didn't even match up. One of my friends even fell asleep. It evidently was a very low budget film with no flow. Save your money.