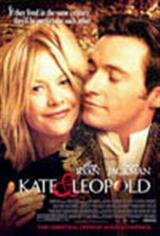 Kate & Leopold
84 Reviews
|
Write a Review
In Theaters: December 25, 2001
4.28/5
Based on 10411 votes and 84 reviews.
61.85%

18.75%

7.85%

9.06%

2.49%
Please rate between 1 to 5 stars
Showing 1-10 of 84 reviews
November 21, 2005
I thougth it was a really good movie. It is a movie that me and the girls get together and watch.
November 13, 2005
The novie is very relaxing! Meg Ryan and Hugh Jackman match perfectly as apearance and acting. Music is wanderful! It`s give me a real pleasure to watch it!
October 25, 2004
I loved it!! Next to Notting Hill, it`s my favorite romantic comedy. Very well written. Jackman and Ryan are cast perfectly. Great as a renter/chick flick.
July 5, 2004
It was awesome. It was a funny, lovely & romantic movie. I love Hugh Jackman & Meg Ryan. They are so matched. Hugh is so adorable, handsome & sweet; while Meg is so funny, pretty & romantic. They are perfect for each other.
January 8, 2004
Amazing movie!!. Hugh Jackman was really cool! I love him!!!!!!
October 20, 2003
Loved it! Why can`t men be like that today?
March 6, 2003
ADORABLE! He looked so cute...I loved the way he spoke so eloquently!!!!!!
January 28, 2003
it`s so romantic!!!!!
December 21, 2002
Ryan truly is the queen of funny!
September 14, 2002
CUTE,CLEAN,ENTERTAINING...