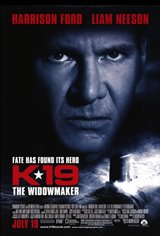 3.77/5
Based on 1469 votes and 27 reviews.
Please rate between 1 to 5 stars
Showing 1-10 of 27 reviews
December 6, 2012
It's no YELLOW SUBMARINE.
December 6, 2012
One of my all time favorite sub movies ever it's right there with U-571! =)
May 22, 2006
This has got to be one of my most favorite movies! The actors fit the part perfectly even if their accents are anywhere less than perfect. The plot is suspenceful and it`s even hard to believe this actually happened in real life. I must have seen this movie over 5 times and it still brings tears.
December 22, 2004
Fantastic Movie! Very moving and suspensful! Loved the way it was told from a Russian point of view. Loved all the actors. Ford, Neeson & Sarsgaard were all wonderful! One of my favorites! Deeply moving the way the movie ended. My Grandfather and Great Uncles were Soviet Navy Captains so I got to see what they saw when they were on a submarine! 5 Stars! -MD
March 7, 2004
I was a young Doc (Lieutenant-Surgeon) in a warship in 1975-76 at Brazilian Navy and I knew a little bit about submarines and others vessels. In my humble opinion "K-19-Widowmaker" is a drama based in a true story and the movie is very good. Indeed, I have liked a lot. Capt. Gottlieb
December 28, 2002
BORING!!!!!!!
December 13, 2002
Thought it was a very good movie from start to finish . It kept me interested all the way through the movie .
December 12, 2002
*Yawn*, slept right through the movie in a theatre. It`s a perfect movie to watch if you are having trouble sleeping.
November 22, 2002
Best movie ever Americans have ever done! For those who think its boring you can stick its somewhere! Its a piece of history and a tragic story. We must give respect for all those who was on that sub. WAYDA GO COMMRADS!
October 24, 2002
STRONG EILM