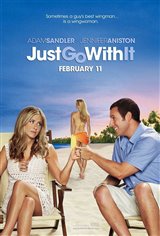 4.14/5
Based on 614 votes and 177 reviews.
Please rate between 1 to 5 stars
Showing 1-10 of 177 reviews
September 28, 2013
I love love loved this movie - I love both Adam Sander and Jennifer Aniston - great actors and Nicole Kidman was a hoot! Love it.
August 18, 2011
I could not even finish this movie the concept was just so pathetic. This is just another example of writers running out of intelligent material to work with. Nothing about this movie made any sense and no actual person would ever act as stupid as either of them did throughout this horrible film.
July 13, 2011
Finally adam does something that doesn't make me wanna gag. His story was predictable but the kids had a blast and I didn't loathe Jennifer Aniston like i usually do
June 27, 2011
It was a great movie. It was very funny. I dont normally give movies a 5 star but this one deserved it.
June 15, 2011
Boring... and this is coming from someone who likes most movies.
June 13, 2011
Started off very well - then went on and on and on and on.
June 10, 2011
Best Happy Madisen production I've seen in a long time. Really enjoyed it.
June 10, 2011
another Aniston flop. Nobody can save this 1 dimensional actress.
June 8, 2011
I am a huge Adam Sandler fan, and I really liked Jennifer Aniston in this movie as well. This movie was light-hearted, lots of fun, and then dealt with more life issues in a gentle way. The chemistry between Aniston and Sandler was believable and the story line was interesting. My favorite was the young actress that played Aniston's daughter; I laughed so much when she spoke in accents and her acting was awesome. Her look reminded me of Katie Holmes. Overall, two thumbs up!
June 7, 2011
Absolutely loved it!! Adam Sandler was hilarious as usual, & he and Jennifer had a great connection going on. Definately worth seeing!!