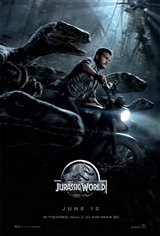 3.22/5
Based on 378 votes and 74 reviews.
Please rate between 1 to 5 stars
Showing 1-10 of 74 reviews
March 12, 2020
ok not bad
May 11, 2018
Dumb, empty movie with mostly boring or annoying characters, plot which makes no sense and weird CGI. The first and original movie aged well but this crap looks more fake than it and even if I was a kid todays, JW would not cause any dino-obssession to me.
May 2, 2018
Leave the classic alone and stop making these stupid remakes!!!
March 2, 2018
CGI looks more fake than in the first original movie from 90´s. The stuff around dinosaurs is over-the-top, basically normal dinosaurs are not enough for the visitors, so they create mixed breeds of dinosaurs and other animals. Maybe to cover the bad CGI. The only quite likable character here is "Star Lord". Annoying ASAP-communicating manager with ugly make-up and hair and attitude unfortunatelly wasn´t brutally killed (in fact she was supposed to be the lead female character). The kids are mostly annoying too. Everything what worked in the original doesn´t work here or is not here at all. The idea of training raptors with clicker wasn´t that bad, it turned them from deadly monsters into normal intelligent animals. The movie contradicts itself when at first it is said that Indominus rex was growing up in solitary and can´t communicate with anyone, and later it communicates with raptors. The authors were not able to create canon and establish some rules, even fictional.
October 25, 2016
The same thing all over again. Except this time it's really stupid and you'll be begging to see the annoying lead characters eaten, especially that insufferable little kid. A hollow, soulless experience.
November 19, 2015
The series is simply parodying itself now.
November 4, 2015
I watched the first part then got annoyed because it was so boring and I turned it off.
October 27, 2015
Terrible. Created for the mediocre. Disappointment from the beginning to the end.
October 19, 2015
Now I realize this is a "new" movie, and someone actually had to write the script but what they did was just take the script from any of the others, change the names, change the dialogue a little, change some of the basic locations, and it was identical to all the others. For eg: kids almost get eaten by a T rex in a jeep, people almost get eaten in an SUV, in this latest one, kids almost get eaten in a bubble car. And the cliche: mad scientist uses DNA in the dinosaurs that isn't a good idea... Then you have the "bad" guy who disrespects the dinos and you KNOW he's going to get eaten for his troubles. Seriously, is this what hollywood thinks creativity is? If I'd been dumb enough to pay to see this movie in the theatre I'd ask for my money back....
September 7, 2015
Good movie :)